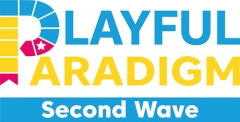 Games for inclusive, healthy and sustainable cities
Playful Paradigm increases the capabilities of cities to answer global challenges including those emerged during covid19. It promotes inclusion, intergenerational solidarity, SDGs, resilience, healthy lifestyles. Play is a serious matter and can make the difference for a better urban future of cities. The Playful paradigm helps to re-think the community welfare and it is replicable adaptable to other urban contexts, since play is a universal principle, naturally practiced by every human being.
Latest activity
Article
Playful Paradigm Second wave project goes around Europe! In this issue the reportage from the World Game day in all the partners countries, the...

by Altrementi
Timeline
1-TNM-Kick-off meeting - Virtual
2-TNM-Grosuplie (Slovenia) - Virtual
3-TNM-Jelgava (Latvia) - Virtual
4-TNM-Igualada (Spain) - In presence