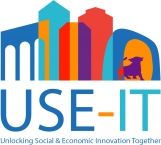 Unlocking social and economic innovation together
Larger capital projects in poor neighbourhoods often do not lead to an improvement in the socio-economic situation of the local population. The USE-IT UIA - URBACT Transfer Mechanism pilot network shares a tested approach that directly links the realisation of larger capital projects - here construction of a new hospital - with the improvement of the socio-economic situation of the population based on the existing local community skills, talents and ideas.
Latest activity
News
Today is an exciting day. At long last, it's our turn for our colleagues and friends from Poznan, Rotterdam and Trapani to join us here in Birmingham!

by James Carless