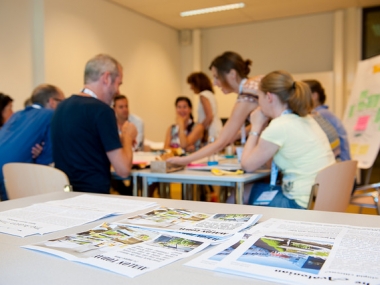 URBACT is organised as described below
URBACT SECRETARIAT
The URBACT Secretariat implements and monitors URBACT's main activities.
Networking and capacity building: It coordinates and monitors the work done by the networks, developing activities that strengthen the capacities of the cities involved.
Capitalisation and communication: It builds knowledge at the programme level, sharing it to people involved in city policy throughout Europe.
Management: It manages the administrative and financial aspects of the programme.
In addition, the Secretariat does preparatory work for the programme's Monitoring Committee, implements its decisions and helps in its day-to-day activities.
Contact information:

Tel: + 33 1 85 58 61 87

20 Avenue de Ségur
75007 Paris
France
E-mail address: All Secretariat e-mails are composed by initial.lastname@urbact.eu
 
Given the recent circumstances and to prevent the spread of Covid-19, the URBACT Joint Secretariat is currently giving preference to remote work. Please contact members of the team using the e-mail accounts that are listed below, instead of calling.
HEAD OF SECRETARIAT
PROJECTS & PROGRAMMING
Adele BUCELLA
Projects & Programming Head of Unit
a.bucella@urbact.eu
Tel: 33 (0)1 85 58 61 93
Céline ETHUIN
Project & Finance Officer
c.ethuin@urbact.eu
Tel: 33 (0)1 85 58 61 98
Clémentine GRAVIER
Capacity-Building Officer
c.gravier@urbact.eu
Tel: 33 (0)1 85 58 62 39
Kristijan RADOJCIC
Networking Officer
k.radojcic@urbact.eu
Tel: 33 (0)1 85 58 62 88
CAPITALISATION & COMMUNICATION
Jenny KOUTSOMARKOU
Capitalisation & Communication Head of Unit
j.koutsomarkou@urbact.eu
Tel: 33 (0)1 85 58 61 95
Josefine HAINSWORTH
Communication Assistant
j.hainsworth@urbact.eu
Tel: 33 (0)1 85 58 60 66
Aleksandra KLUCZKA
Communication Officer
a.kluczka@urbact.eu
 
Stefanie WEBER
Capitalisation & Communication Officer
 s.weber@urbact.eu
Tel: 33 (0)1 85 58 62 59
ADMINISTRATION & COORDINATION
Thierry PICQUART
Administration & Coordination Head of Unit 
t.picquart@urbact.eu
Tel: 33 (0)1 85 58 61 91
Evgenia STRATI
Senior Programme Assistant
e.strati@urbact.eu
Tel: 33 (0)1 85 58 61 87
Sabrina TEMIME
Technical Assistant
s.temime@urbact.eu
Tel: 33 (0)1 85 58 61 88
Louis TREHARD
Technical Assistant
l.trehard@urbact.eu
Tel: 33 (0)1 85 58 60 04
Whistleblowing procedure
Either suspected or established, the URBACT III Programme has developed a strong procedure to report any fraud you may have witnessed should it be one partner, any involved expert or even one of the Programme authorities. If so, please provide all details to the following anonymised email address: alert@urbact.eu so that all appropriate measures will be implemented starting with a thorough investigation of the fraud, and if applicable, apply all sanctions as described in the Programme's procedures.
The National URBACT Points are set in most Member States and shall play an active role, at national level, in:
Communicating on the URBACT programme (objectives, activities, etc.) and informing potential beneficiaries (more especially in relation to the open calls for network proposals);
Disseminating programme results (network results, capitalisation outputs, etc.) to urban practitioners and policy-makers at local, regional, national and EU level, with a specific emphasis on reaching out to urban players outside the URBACT community;
Enhancing the dialogue between local, regional and national authorities to support the design and delivery of sustainable integrated urban policies;
Supporting the URBACT Secretariat in enhancing capacities of urban practitioners and policy-makers in designing and delivering integrated and participatory urban policies.
To contact a National URBACT Point, please check the contact details table here.
PROGRAMME EXPERTS
The URBACT programme Experts support the Secretariat in its capitalisation activities. Their main activities are to:
Build and share practical knowledge and policy recommendations on policy challenges related to sustainable urban development through to articles writing and events participation;
Support the URBACT networks, according to themes, providing Lead Partners and Lead Experts with thematic and methodological guidance to ensure a proper implementation and delivery of the network activities/outputs.
Below are the names of the 5 Programme Experts and links to their profile:
Eddy ADAMS, Methods and Tools Programme Expert
Marcelline BONNEAU, Thematic Programme Expert
Laura COLINI, Thematic Programme Expert
Sally KNEESHAW, Methods and Tools Programme Expert
Ivan TOSICS, Thematic Programme Expert
| M | T | W | T | F | S | S |
| --- | --- | --- | --- | --- | --- | --- |
| | | | | 1 | 2 | 3 |
| 4 | 5 | 6 | 7 | 8 | 9 | 10 |
| 11 | 12 | 13 | 14 | 15 | 16 | 17 |
| 18 | 19 | 20 | 21 | 22 | 23 | 24 |
| 25 | 26 | 27 | 28 | 29 | 30 | 31 |
9608
documents in library