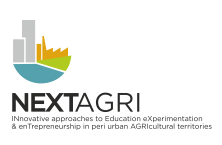 Innovative approaches to education experiementation and entrepreneurship in periurban agriculture territories
The NEXT AGRI UIA - URBACT Transfer Mechanism pilot network builds from the experience of Milan. The city decided to set up an urban coalition with a series of partners to scale up this positioning in the peri-urban agricultural industry, setting up a stable growth and creating new jobs and skills. The project is mainly an urban policy experimentation that follows the place-based approach, focusing on new skills for new jobs in peri-urban agriculture. The project area can be defined as an "urban fringe", representing the transition zone between the consolidated part of the city and the agricultural lands.This project aims at transfer to other 3 cities the processes and strategies implemented to create a favorable environment to develop new opportunities in the food system transformation in the urban and per urban agriculture sector.
Latest activity
Article
Partners from Italy, Bulgaria and the Netherlands visited the city of Vila Nova in the framework of the Urbact European Project NextAgri with the aim...

by Cristina Sossan
Timeline
Next Agri Bilateral meeting Almere - online
Next Agri Bilateral Meeting Vila Nova de Gaia - online
Next Agri Bilateral meeting Stara Zagora - online
First transnational meeting in Almere - online
Second transnational meeting in Stara Zagora - online
Third Transnational Meeting in Vila Nova de Gaia
Transnational meeting and field visit in Almere