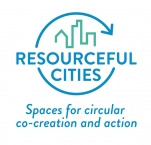 Spaces for circular co-creation & action
RESOURCEFUL CITIES is an URBACT Action Planning Network of ten European cities. This project seeks to develop the next generation of urban resource centres, so they can serve as catalysts of the local circular economy, by adopting a participative and integrated approach. The resource centres strive to promote the positive economic, environmental and social impacts, notably for the circular economy. Thus, the network facilitates waste prevention, reuse, repair and recycling. The centres also work as connection points for citizens, new businesses, researchers and the public sector to co-create new ways to close resource loops at the local level. By bringing together interested actors to work alongside, the goal is to promote the change of values and mindset.
Latest activity
Article
Part of the Resourceful Cities project was for the participating cities to create an Integrated Action Plan (IAP). The idea behind this plan is to...
by Amy Jansen
Timeline
Phase 1: Kick-Off Meeting 1, The Hague 3-4 Oct 2019
Phase 1: Kick-Off Meeting 2, Mechelen 12-14 Feb 2020
Phase 2: Kick-Off Transnational meeting 1, online 7-8 Jul 2020
Phase 2: City-to-City Session *Scoping the eco system* 9 Sep 2020
URBACT e-University 15 Sep - 8 Oct 2020
Transnational meeting 2 *Stimulating Collaboration* 25-26 Nov 2020
City-to-City Session *Scaling up local circular economy* 14 Dec 2020
Transnational meeting 3 *The role of the city* 27-28 Jan 2021
City-to-City Session *Circular Economy and territorial food systems* 18 Feb 2021
Transnational meeting 4 *Education, Awareness & Engagement* 30-31 March 2021
Transnational meeting 5 *Funding, Monitoring & Risk Assessment * 29-30 June 2021