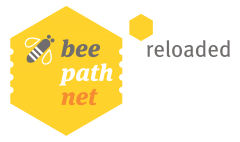 Enriching the Urban Jungle with Bees
BEE PATH good practice logic is very simple - bees are the best indicator of healthy environment! BeePathNet-Expanded project will widen the network of "bee-friendly cities" based on BeePathNet project transfer success. It will address urban environmental, biodiversity and food self-sufficiency challenges linked to urban beekeeping through integrated and participative approaches, build key stakeholders' capacities to influence relevant policies, develop and implement efficient solutions.
Latest activity
Article
During the summer months we always look for the best way to recharge our batteries during the holidays. Read how to take advantage of apitourism...
by v.erhart
Timeline
Boot Camp in Ljubljana (SI)
Thematic Transfer meeting in Osijek (HR)
Thematic Transfer meeting in Bansko (BG)
Thematic Transfer meeting in Bergamo (IT)
Thematic Transfer meeting in Sosnowiec (PL)
Final Conference in Ljubljana (SI)