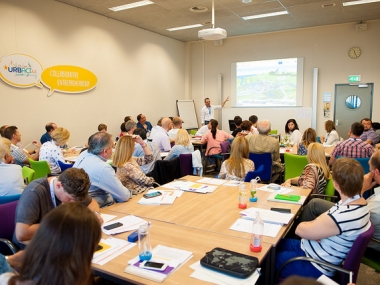 For over 15 years, the URBACT programme has been the European Territorial Cooperation programme aiming to foster sustainable integrated urban development in cities across Europe. It is an instrument of the Cohesion Policy, co-financed by the European Regional Development Fund, the 28 Member States, Norway & Switzerland.
URBACT's mission is to enable cities to work together and develop integrated solutions to common urban challenges, by networking, learning from one another's experiences, drawing lessons and identifying good practices to improve urban policies.
Following the success of the URBACT I and II programmes, URBACT III (2014-2020) has been developed to continue to promote sustainable integrated urban development and contribute to the delivery of the Europe 2020 strategy.
The URBACT III programme is organised around four main objectives:
Capacity for Policy Delivery:

to improve the capacity of cities to manage sustainable urban policies and practices in an integrated and participative way.

Policy Design:

to improve the design of sustainable urban policies and practices in cities.

Policy Implementation:

to improve the implementation of integrated and sustainable urban strategies and actions in cities.

Building and Sharing Knowledge:

to ensure that practitioners and decision-makers at all levels have access to knowledge and share know-how on all aspects of sustainable urban development in order to improve urban development policies.
To reach these objectives, URBACT III develops 3 types of interventions:
transnational exchanges,
capacity-building,
capitalisation & dissemination.

Shot during the URBACT City Festival in Tallinn in October 2017, the video introduces URBACT with the focus on the transfer of Good Practices.
Each of these interventions are built upon the strengths developed in URBACT II.
URBACT uses resources and know-how to strengthen the capacity of cities to deliver integrated urban strategy and actions on the thematic according to their challenges. The main target participants include practitioners, city managers, elected representatives and stakeholders from other public agencies, the private sector and civil society.
The total budget eligible budget of URBACT III is 96,3 M€.
You can consult the URBACT III Operational Programme here and the last version of the Programme Manual here (last update: February 2020). And the brand new URBACT IV Operational Programme (2021 - 2027) is available here.
You can find here the URBACT III Citizen's Summary tracing the various URBACT activites in 2020. The URBACT programme is constantly evolving, do not hesitate to keep in touch by visiting our website.
The list of URBACT III beneficiaries is available here (last update: October 2021).
| M | T | W | T | F | S | S |
| --- | --- | --- | --- | --- | --- | --- |
| | | | | 1 | 2 | 3 |
| 4 | 5 | 6 | 7 | 8 | 9 | 10 |
| 11 | 12 | 13 | 14 | 15 | 16 | 17 |
| 18 | 19 | 20 | 21 | 22 | 23 | 24 |
| 25 | 26 | 27 | 28 | 29 | 30 | |
9608
documents in library