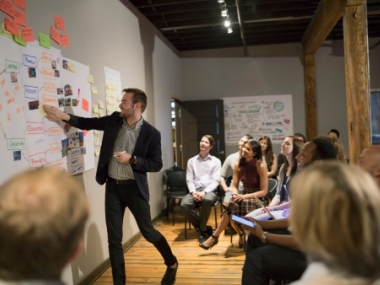 The URBACT Programme provides each approved network with a specific financial envelope for the appointment of URBACT experts.  The expert role is to support beneficiaries in designing and implementing transnational learning activities, to foster the local level uptake of the learning developed in transnational activities, and more generally to help deliver expected results.
Validated Experts compose URBACT's III pool of expertise. URBACT Experts are expected to provide partners with a package of services including the 3 following types of expertise:
Expertise for the design and delivery of transnational exchange and learning activities
Thematic Expertise on content related to the urban policy challenges addressed by URBACT
Expertise to support city partners and other stakeholders in designing and delivering integrated and participative policies
The expertise provided by the Programme is available for the approved ongoing Networks as follows:
A Lead Expert will be appointed to assist the partnership over the entire duration of the network with both methods and tools for exchange and learning activities and thematic expertise.
Ad-hoc experts may also be recruited to provide support on specific needs identified by the network concerning the methodology for exchange and learning, thematic expertise or local support to partners
HOW TO APPLY?
In light of the next programming period (URBACT IV), the call for URBACT III Experts is closed.
A new call will soon be launched in September 2022. Subscribe to URBACT's newsletter and follow the programme on social media channels to apply to become a Validated Expert as soon as the URBACT IV application from is opened!
Assessment process
Once you apply to become an Expert, from September 2022 on, an external service provider will be in charge of assessing all received applications through:
Thorough review of application form and attached CV
Short interview with applicant
Phone exchange with at least 1 of the references indicated in the application form
Applicants shall ensure their availability (as well as for the references indicated) for a phone interview with assessors in the two weeks following the submission of the Application Form.For questions on the Call for
If you have any questions or concerns, you can contact expert@urbact.eu
| M | T | W | T | F | S | S |
| --- | --- | --- | --- | --- | --- | --- |
| | | | | 1 | 2 | 3 |
| 4 | 5 | 6 | 7 | 8 | 9 | 10 |
| 11 | 12 | 13 | 14 | 15 | 16 | 17 |
| 18 | 19 | 20 | 21 | 22 | 23 | 24 |
| 25 | 26 | 27 | 28 | 29 | 30 | |
9608
documents in library