Nodus is a project for a working group focused on the links between urban regeneration and spatial planning elements that influence regional development and spatial segregation.
The Working Group will have as its main objective to develop a series of recommendations for the improvement of the coordination of area-based urban  regeneration policies and regional or metropolitan planning. It will have to take into account two major elements. On the one hand the importance of the relationships between urban regeneration and these sectoral policies with a spatial impact designed at a regional or metropolitan level, such as housing or transport infrastructures. On the other hand the difficulty that these distinct policy elements are defined by several agencies often belonging to different administrative levels, and thus lacking of connection and interaction.
The Nodus Working Group wants to tackle the issue of how urban regeneration projects are taken into account in the regional spatial planning processes and how do the latter determine urban regeneration and related sectorial policies. The questions to be answered are:
· Are spatial planners taking into account local urban regeneration policies as an input in their work?
· Which are the feedback effects between strategic/spatial planning and the definition or the impact of local urban renewal projects?
See complete overview
Partners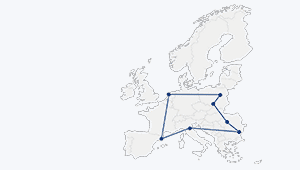 Go to the map
Integrated Action Plans
Within an Action Planning Network, the Integrated Action Plan is a local output, specific to each city. Thus, the local circumstances, as the concrete actions to be carried out in response to the network's sustainable development challenges, are defined by the URBACT Local Group. This core group is composed by a wide range of relevant stakeholders, who have a stake in the addressed challenge and who play an active role in co-designing the plan alongside the project partner. This document is the result of the interplay between the theme, each city's starting point and its individual URBACT journey. It highlights the positive learning experience cities have undertaken, both from a local and a transnational perspective.
Government Of Mazovia Region