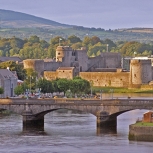 Limerick City has a population of 94,192 and covers an area of 59km2. An ancient city on the banks of the mighty River Shannon, Limerick is bustling, vibrant and utterly individual. Located 200km from the capital Dublin, Limerick is Ireland's third largest city. The history of Limerick stretches back to its establishment by the Vikings as a walled city on King's Island in 812AD. Its subsequent charter in 1197 makes it older than the city of London
Its famous castles, ancient walls and museums are a testament to its dramatic and captivating past. Limerick's motto is a quote from Virgil's Aeneid and translates as: 'a city well versed in the arts of war'. The city was under siege in the 17th century which ended with the signing of the Treaty of Limerick in 1691. This Georgian era is responsible for some of Limerick's finest buildings.
Today Limerick is undergoing an economic and cultural renaissance led by Limerick City and County Council (LCCC) taking bold decisions to recover from the economic crisis.  Over €1bn in enterprise and investment infrastructure is being invested as part of the Limerick 2030 vision: a 20 year economic and spatial plan by LCCC, which is having a transformative effect on the economic and social fabric of the city.
Limerick is transforming itself into the country's first Digital City with the integration of a number of public services; the creation of smart homes; smart buildings; energy districts and smart neighbourhoods. It is home to the hugely successful Troy Studios, the largest international film and TV studio in Ireland. Limerick also has three third level institutions with 20,000 students, including a world-class university.
Ireland's first National City of Culture and a shortlisted European Capital of Culture, Limerick's rich cultural life can be seen in its vibrant and historic venues and lively festival scene. Notwithstanding its more recent transformation into a foreign investment hotspot, Limerick has retained its singularities: its famed sporting tradition; abundance of cultural offerings and affable, welcoming people.  Its easy-going pace of life, available housing, high educational standards and employment opportunities make it ideal for both families and young professionals.
LCCC is at the centre of the city's revival. However, the Council is committed to ensuring that Limerick's economic success is not achieved at the expense of either its environment or the quality of life of its citizens and that the city grows and thrives in a sustainable way.
In achieving this, LCCC faces a number of challenges including: achieving compact development and facilitating more people to live and work in the city centre; ensuring that a growing population does not result in traffic congestion or contribute to greenhouse gas emissions, by offering realistic alternatives to the private car; dealing with the causes and impacts of climate change (including more extreme weather events and flooding); moving the emphasis in waste management further up the hierarchy towards reduction and reuse and ensuring a clean, health and enjoyable environment for its citizens.
LCCC is responsible for a range of functions which enable it to respond effectively to these challenges, including: land use planning and policy; development management; climate change mitigation and adaptation planning at local level and the management of environmental pollution. The council is also responsible for road provision and maintenance; traffic and transportation planning; the management of parks and public spaces and waste management planning and management of recycling facilities.
In all areas, a fundamental principle which underpins LCCC's approach is the need to empower the people of Limerick to participate in the development of their community.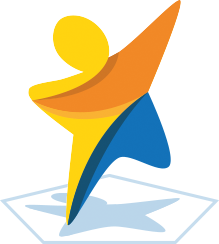 Related Good Practices
SOME RELATED NETWORKS
Find your Greatness is a concept that reflects the most challenges addressed by AIM together with other EU local communities. Why Find your Greatness...
How can we improve urban greenspaces in order to promote mental and phsyical health for our communities? Health&Greenspace Action Planning...
| M | T | W | T | F | S | S |
| --- | --- | --- | --- | --- | --- | --- |
| | | | | 1 | 2 | 3 |
| 4 | 5 | 6 | 7 | 8 | 9 | 10 |
| 11 | 12 | 13 | 14 | 15 | 16 | 17 |
| 18 | 19 | 20 | 21 | 22 | 23 | 24 |
| 25 | 26 | 27 | 28 | 29 | 30 | 31 |