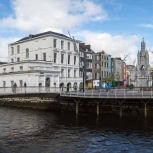 Cork is the Second City of Ireland, located in southwestern Ireland, in the province of Munster. Cork City's most defining characteristic is that of a port city. This is an exciting period for Cork City with the extension of the boundary of the city by almost five times giving Cork the potential to become a European city of scale and scope for improvements in the capacity to maintain, improve and expand services.
Cork began on an island in the swampy estuary of the River Lee (the name 'Corcaigh' means a marsh), and gradually climbed up the steep banks on either side.  The River Lee divides the city centre into two islands and offers a great maritime activity. The Port of Cork utilises the asset of Cork Harbour by providing Ireland's only multipurpose deep sea port facility.  Cork is a very pleasant city; the city center is easily walkable, renowned for its architecture and offers many artistic and cultural assets.  Cork is a dynamic city; designated in 2012 as a World Health Organisation Healthy City and in 2015 UNESCO presented Cork with one of 12 inaugural Learning City Awards. Cork is a University City with a total student population in excess of 35,000. 
The population of Cork City aged over 65 years is 15,69%.  The unemployment rate is 8.3% (Census 2016).  Cork City has designated RAPID areas that are identified as being in need of targeted investment due to the levels of disadvantage that they face.  The community and voluntary sector in Cork City is very active, mature and diverse: it covers health services, community development, sport and cultural activities, services for older adults and community education.  The largest employment sector in the City is 'Human health and Social Work Activities' (17%) followed by Retail (13%) Administrative and Support Service Activities (11%) and Education and Professional, and Scientific and Technical Activities (9%).   The citizens of Cork City have a very strong sense of their own cultural identity and great pride in their cultural heritage.   Cork was the European Capital of Culture for 2005.  Cork City and County have produced a long list of venerable artists and entertainers such as writers Seán Ó Faoláin and Frank O'Connor, sports persons Roy Keane, Rena Buckley and Sonia O' Sullivan, singer-songwriter John Spillane and sculptor Eilis O'Connell.
SOME RELATED NETWORKS
Cities offer unique opportunities for addressing the challenges of urbanization, ageing, climate change, social exclusion, only if enabling,...