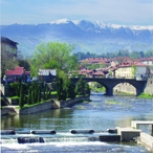 The city of Troyan is located in norther part of the central region of Bulgaria in a pristine moutain area (Balkan Mountain Range). It has 21 settlements within a territory of 893 square kilometers and counts around 33 500 inhabitants.
The city has rich natural endowments- mountains, rivers, forests and mineral waters. The climate is suitable for agriculture, which is well-developed with a special focus on organic production. Indeed, Troyan has good opportunities to develop its local and organic agriculture, as the municipality owns over 1500 hectares of agricultural lands.
Most of the working people are employed in the service and industry sectors (50,58%) followed by trade (13,19%), education (6,33%), health and social care (4,58%) and tourism (4,8%).
The municipality has also well-developed social, education and health care services and infrastructure. In particular, local citizens' health is one of the municipality's top priorities that is notably pursued through the establishment of social services, as well as dedicated facilities and equipment for children.
Finally, the city benefits from a well-preserved cultural and historical heritage. One of the main cultural events of Troyan is its Plum Festival which is organised each year in September to celebrate a regional product that is a key part of the local cultural identity and economy.
With regards to the canteen system for schools, thanks to its participation in the BioCanteens Transfer Network together with the cities of Mouans-Sartoux (France) and Rosignano-Marittimo (Italy) in Phase 1, Troyan aims to adopt a more sustainbale collective school catering scheme with a view to supporting the development of a greener and healthier local agri-food system.
SOME RELATED NETWORKS
BioCanteens Transfer Network is about ensuring the distribution of sustainable school meals in participating cities as a key lever towards the...
Article
These local green solutions are inspiring cities across the EU. Could they work in your city too?
News
This new publication is a doorway into understanding URBACT's Transfer Networks.