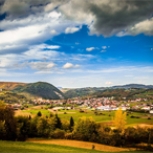 Pregrada is a municipality in Krapina-Zagorje County in north-western Croatia. It has 6.594 habitants. Although the city is not very big, we like to say it's big enough to contain everything you need for everyday life, and still small enough for a comfortable life far away from the hustle of the big city.
Pregrada is a municipality in Krapina-Zagorje County in north-western Croatia. It has 6.594 habitants (49,36% Men and 50,63% Women)  and a surface of 67,2551  km2. Although the number of inhabitants is declining, the area of the Pregrada municipality with 168 sq./km2 is still in the area with the most densely populated area in the Republic of Croatia.
The city of Pregrada is rich with architectural heritage from the past. The name Pregrada was first mentioned in 1334 on the list of archdeacon Ivan Gorić. The patronage right over the church was owned by the Keglević family who owned Kostelgrad, to which the Pregrada belongs until the end of the 19th century. The building up of the Kostelgrad begins in about 1242. At the end of the 16th century the Keglević family built the castle of Gorica, and a little later began the building up the Dubrava castle. The Kostel fortress was gradually being abandoned during the 17th century and was completely abandoned in the 18th century. It is worth mentioning also the Bežanec Castle which was built at the end of the 17th century. It belonged to the Ottenfels family, who were originally from Carinthian. At the end of the 19th century, or at the beginning of the 20th century, Adolf Alfons Thierry founded the first chemical and pharmaceutical company in Southeast Europe right in Pregrada. Thanks to him and his company, the City of Pregrada already had a phone in 1903. Also, at this time there was coal finding in a famous city mining. In 1953 our coal plant grew so strong that it became an independent work organization known as Colliery Pregrada.
The City of Pregrada has always supported the development of the city in the direction of raising the quality and standards of communal infrastructure and service. Also, The City of Pregrada has a vision of becoming modern European city of knowledge, culture and outstanding business opportunities. In order to do that, we find this transfer network fundamental  for development of sustainable strategy which reflects its social and  cultural considerations.
SOME RELATED NETWORKS
This Transfer network makes use of Volunteerism to approach social exclusion and poverty at the community level. Focus is given to an inter-...
News
This new publication is a doorway into understanding URBACT's Transfer Networks.