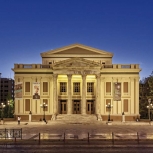 Piraeus is a historical city, located in the Attica Region near Athens - only few kilometers to the south-west of the center of Athens and the capital of the Piraeus Prefecture. It is one of the most populous municipalities in Greece (approx. 200.000) and the largest port of the country. During the last decades, Piraeus is in a process of transition.
The Municipality has chosen the district of Saint Dionisios – a relatively central area adjacent to the port - as more appropriate for the foundation of a Science Quarter since the translocation of many industries has left the area with a great number of abandoned buildings, which consequently has contributed to its degradation. Through its participation in REDIS the Municipality of Piraeus is aiming in parallel with the reformation and improvement of the district, to provide further incentives to public organizations (such as educational and research institutions) and private companies, already engaged in research and development (R & D) to become actively involved in the project. For further information see www.pireasnet.gr/
SOME RELATED NETWORKS
The BluAct Network follows the success of the Blue Growth Initiative of the Municipality of Piraeus, an award-winning business plan competition that...
TechRevolution, an URBACT Transfer Network, provides an opportunity for six cities from across the EU to get under the skin of an URBACT Good...
| M | T | W | T | F | S | S |
| --- | --- | --- | --- | --- | --- | --- |
| | | | | 1 | 2 | 3 |
| 4 | 5 | 6 | 7 | 8 | 9 | 10 |
| 11 | 12 | 13 | 14 | 15 | 16 | 17 |
| 18 | 19 | 20 | 21 | 22 | 23 | 24 |
| 25 | 26 | 27 | 28 | 29 | 30 | 31 |