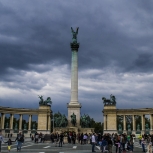 The partner in Tropa Verde is District 14, known as "Zugló" located in the capital of Hungary, Budapest. The city of Budapest is divided into 23 districts that all have their own municipal government, run by elected members.
Located on the "Pest" (east) side of Budapest, Zugló is a relatively large area, covering some 18,13 km2, that counts with some 115.000 inhabitants. Its good location within the city, with good connections by bus or subway, and its mixture of residential streets with more popular apartments (many of them of communist era style) makes it an attractive area to live for both, middle and working-class people.
A significant part of Zugló is covered by green areas. In fact, the second biggest public park of Budapest, the Városliget is also located there. This park hosts the Széchenyi Thermal Bath, the Budapest Zoo and Botanical Garden, the Vajdahunyad castle, the Capital Circus of Budapest, the City Park Ice Rink and the Heroes' Square, which makes it not only a popular place among locals, but also one of the most visited district by tourists in Budapest.
In waste management the competences of Zugló, as a district, is very limited. A 100% publicly owned company, FKF (belonging to the City of Budapest) is responsible for all the waste management. Participating in Tropa Verde Zugló might contribute to open some internal dialogue and promote alternative solutions and a major collaboration between districts municipalities and FKF and might involve more and more citizens to extend recycling.
SOME RELATED NETWORKS
Tropa Verde is a Transfer network to encourage environmentally responsible behaviour that empowers citizens to reuse and recycle. Combining web...
News
This new publication is a doorway into understanding URBACT's Transfer Networks.
News
This week's inspiring stories from URBACT cities – from citizen involvement to urban gardens.
| M | T | W | T | F | S | S |
| --- | --- | --- | --- | --- | --- | --- |
| | | | | 1 | 2 | 3 |
| 4 | 5 | 6 | 7 | 8 | 9 | 10 |
| 11 | 12 | 13 | 14 | 15 | 16 | 17 |
| 18 | 19 | 20 | 21 | 22 | 23 | 24 |
| 25 | 26 | 27 | 28 | 29 | 30 | 31 |