the standard ISO 22341:2021 and the UrbSecurity project
Edited on
20 February 2023
CPTED is a methodological approach that provides for the introduction of principles in the design and use of public space in order to make it safer, thus improving the quality of life in cities and becoming determinant in the perception of security by residents and users.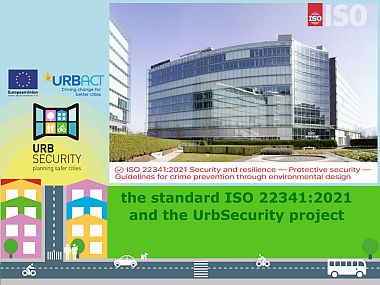 INTRO
The European Council adopted conclusions on Crime Prevention Through Environmental Design - CPTED (EC 8094/11). Security in the urban environment of our cities can be improved through actions and interventions in the urban environment and environmental design. Therefore member states are encouraged to apply CPTED in all relevant urban planning applications and to promote the adoption of the philosophy and principles of CPTED by police forces and local authorities, in order to improve the quality of life for the community."
As part of the UrbSecurity project, experiences have been exchanged on the subject of security. Collaboration with other networks such as the Urban Agenda for EU and the IMPETUS and ToNite projects has not only inspired our partners, but has also highlighted the importance of collaboration and sharing best practices.
CPTED is a multi-disciplinary approach to deterring criminal behaviour: it is based on the theory that the physical environment influences human behaviour. And these CPTED strategies are based on the ability to influence offenders' decisions that precede criminal acts.

URBSECURITY
This Action Planning Network analyses strategies and projective concepts of cities' design that could contribute to prevent segregation and anti-social behavior, and consecutively to improve citizen's quality of life and their perception of urban security and safety.
In this collective learning process, the solutions found in each of the participating cities were analyzed together with local stakeholders by sharing the problems and enabling them to be part of the solution by becoming the actors of change in their communities - from municipal staff and decision-makers to residents, resident businesses and local associations.
Since security is an extremely important issue in the urban policies of our cities and a topic of great concern to their inhabitants, the implementation of these measures becomes a challenge.
Challenge not only in implementing these experimentation-based actions but in incorporating these results into integrated action plans.        
As a final Challenge to turn this experience into lasting changes and successful case studies that can be replicated, adapted and improved in other European cities.
Projects implemented
- Leiria, Techniques to maintain stakeholder engagement through serious-games and training in CPTED methodology by official ICA representative, involving local schools.
- Madrid, Space design to improve user safety and increase the efficiency of video surveillance systems, involving the design team with police forces.
- Michalovce, Citizen participation in an online application "Opinion Map", identifying levels of perceived safety and problems in public space. Elaboration of a guide of good practices.
- Mechelen, Techniques to influence unwanted behavior of park users and techniques to involve them in the management of public spaces by assigning them ownership of the equipment.
- Longford, Urban regeneration of a central space in the city by installing public art and increasing the use of that space with the support of the local art community.
- Parma, Process of civic participation in our public design solutions for a large public park, involving residents, schools and local actors with the support of local and national police forces.
- Pella, Massive participation of local schools and students with the municipality in identifying problems and proposing solutions. Increase the involvement of new generations in processes of participatory and constructive citizenship
- Szabolcs05, Action to promote the improvement of the feeling of safety of a public park, through adequate public lighting and outreach to the school community and citizens.
- Unionne della Romagna Faentina, Public advertising campaigns that promote relationships between neighbors and community residents.
The UrbSecurity partners have focused at this stage and in this project more on standards that are more related with physical aspects of spaces, however this experience with CPTED allows for a more generalized approach to the methodology to be taken later.
CPTED
Worldwide experiences with CPTED have shown that when properly planned and implemented, it reduces the opportunities for crime to occur and consequently decreases the sense of fear and perception of safety. These facts, already subjected to formal and rigorous evaluations, demonstrate that not only do local communities benefit, but there is also an improvement in the local economy when these measures are taken.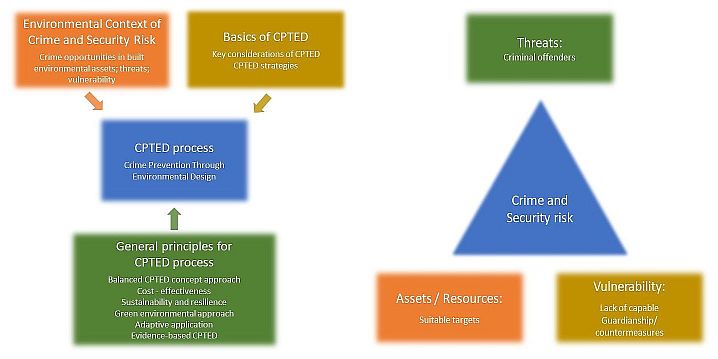 According to Crowe (1991), the physical characteristics of the environment can be designed and used to influence behavior, thus contributing to a decrease in antisocial acts, incivilities or crime. In this sense, space can be designed in such a way as to discourage inappropriate or socially condemnable behavior and simultaneously minimize the feeling of insecurity on the part of its users, which enhances the quality of life and personal freedom of citizens.
The benefits of applying this approach translate into better definition and response from the urban environment, with positive repercussions on the quality of life of its inhabitants and the strengthening of feelings of collective ownership of the space, which triggers spontaneous attitudes of its protection, maintenance or revitalization.
It is important not to lose sight of the fact that CPTED does not fight crime directly, it only uses the physical characteristics of the environment to reduce opportunities and develop a sense of security and well-being in its users. Similar to the idea of space management adapted to the users' different needs, the security forces are also looking for solutions that facilitate their mobility in the most different contexts, adapting to the demands of the space, so it is important to promote the collaboration between these entities with the activities promoted by the municipalities.


ISO 22341:2021
This ISO constitutes an agreement on the minimum standards necessary to ensure that environmental design principles are respected in specific spaces and areas. The main objective is to promote a common understanding related to the topic of crime prevention in urban space through preventive interventions in our cities.
    Abstract
    This document provides guidelines to organizations for establishing the basic elements, strategies and processes for preventing and reducing crime and the fear of crime at a new or existing built environment. It recommends the establishment of countermeasures and actions to treat crime and security risks in an effective and efficient manner by leveraging environmental design.
    Within this document, the term "security" is used in a broad manner to include all crime, safety and security-specific applications, so it is applicable to public and private organizations, regardless of type, size or nature.
    While this document provides general examples of implementation strategies and best practices, it is not intended to provide an exhaustive listing of detailed design, architectural or physical security crime prevention through environmental design (CPTED) implementation strategies or restrict the potential applications to only those examples provided in this document.
The CPTED ISO 22341 provides a standard framework to implement the "security by design" principles in the everyday planning of the city, creating a layer of security in every public intervention in the public space, although they often conflict with current rules and local/national regulations. As clearly outlined within the February 2022 URBACT e-University Workshop, this can be effectively overcome checking and applying the Urban Agenda for the EU Partnership on Security in Public Spaces "10 Rules of Thumb for Security by Design". 
This publication can be acquired online at the official website: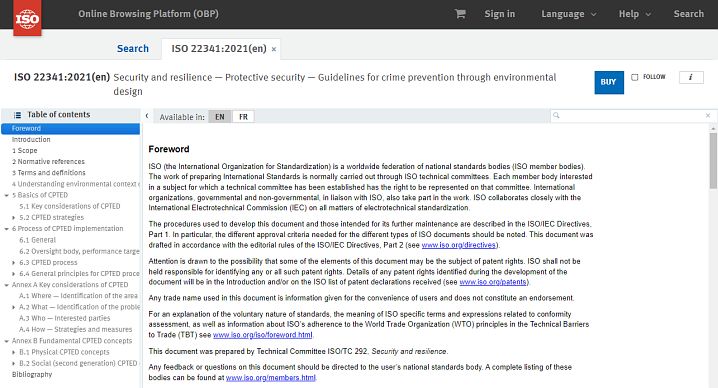 links:
ISO 22341:2021 Security and resilience - Protective security - Guidelines for crime prevention through environmental design
https://www.iso.org/standard/50078.html 
CPTED Manual For Police Implemented by 11 EU Organizations A project co-funded by the European Union Prevention of and Fight against Crime Programme of the European Union has developed and implemented this manual for police throughout Europe and internationally.
for more information
ICA The International CPTED Association
https://cpted.net/
https://www.youtube.com/watch?v=SC5CJ9sSM7Y&t=336s
Submitted by Patricia Moital on