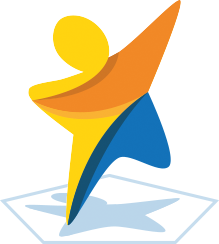 Back to home page
SPAZIO 13 - Creative Hub for urban regeneration
Transforming a former disused school into a Creative Hub as part of (sub)urban regeneration process.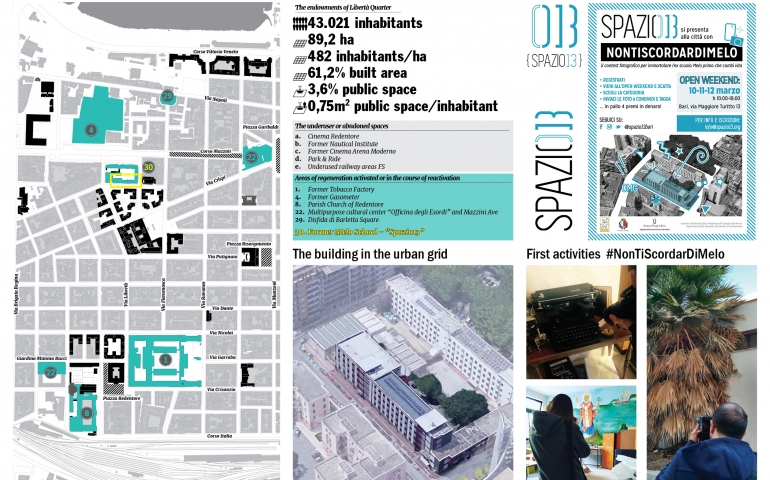 SPAZIO13 is the conversion of a former disused school into a creative hub in a suburb of Libertà (IT). It is a community experience of social innovation and reuse of a decommissioned public building, having triggered the involvement of residents and stakeholders in the transformation process affecting the neighbourhood. This urban regeneration process includes an extensive network of 15 youth associations.
In addition to the public multicultural nursery school set up by the city, the property of 1,000 square metres is composed of three areas:
1) Informal Education (architectural/engineering design, photography, startup businesses, digital communication);
2) Making (fabLab 3D printing, carpentry, audio/video production, recording music, photo printing); and
3) Events and social spaces (co-working, public library, public events and conversations).
The solutions offered by the good practice
SPAZIO13 offers a virtuous and subsidiary solution of community conversion of an abandoned public space strongly integrated with urban regeneration through social innovation levers and the leadership
of a local youth network. A good practice of conversion, participation and innovation focused on communities, residents and local economies. SPAZIO13 is a learning space and its concept was started by a collective research action conducted on the neighbourhood identity by 15 associations of young architects, urban planners, designers, photographers, communication experts and European policies experts with residents, families and young residents. Through its participatory methodology approach to conversion of public space, SPAZIO13 is an antidote to gentrification in city suburbs. Its cultural offering, stratified into different sections (education, production and collaboration), provides interdisciplinary and multi-target methods for dialogue with the neighbourhood, highly integrated with the local networks and strongly oriented objectives of economic rebirth.
Building on the sustainable and integrated approach
SPAZIO13 fully complies with the URBACT principles and challenges both in the sustainable development dimension and integration. SPAZIO13 is a community experience of reuse and conversion that seeks the social inclusion of vulnerable groups in the processes of regeneration, activating education courses, participation, social innovation, promoting new opportunities and job skills. As reuse experience stands in contrast with the soil consumption policies, the prominence of 15 NGOs ensures a very broad urban partnership. SPAZIO13 also responds effectively to the horizontal integration and vertical principles promoted by URBACT. In terms of horizontal integration SPAZIO13 is characterized by being simultaneously a physical redevelopment of a public space, a social experience of shared management, a cultural laboratory of participation and an enabler of local economies in the neighbourhood, promoting new skills and collaborative networks. In terms of vertical integration, SPAZIO13 is a virtuous experience of PPP between the city of Bari and civil society. SPAZIO13 was inspired by the will of the city to convert the former school in the target neighbourhood of its regeneration strategy. A local group was selected after a national tender. Governance involves the municipality of Bari, neighbourhoods, civil society, local economy representatives, university and residents.
Based on a participatory approach
SPAZIO13 is a collaborative project that is based on the participation of civil society and local networks preliminarily involved in the co-design phase of conversion. The city of Bari established a partnership with the local group. Subsequently, the partnership involved the local university, representatives of the local economy, cultural stakeholders and residents' associations to define the best proposal. The start of the conversion has been marked by two important experiences: a photo contest opened to all residents to attest to the school's identity before the change with a hashtag on Instagram (#nontiscordardimelo) and Huffington Post as a media partner, an experience of collective self-building to adapt the spaces at the new functions. The space was furnished through an open call to residents to donate disused furniture and fittings in exchange for participation in the courses. Neighbourhood focus groups were held to define priorities and activities.
More info: http://spazio13.org/
What difference has it made?
Some results of SPAZIO13 have already been achieved, and other objectives are being realized. The results achieved and expected are:
1) promote the conversion of the former school
through a collective self-build path and co-design workshops with associations and residents,
2) activate an urban laboratory of education, production and social innovation serving communities,
3) promote a collaborative network at the neighbourhood level composed by associations, professionals, institutional, economic and research that can play an active role in the regeneration process.
Regarding the first, SPAZIO13 has involved 15 NGOs and 80 young people (16-35 age group) in the co-design of 1 000 square metres and same path was made on branding that has been marked by a visual identity defined in a participatory way. On the second result SPAZIO13 is involving 630 young people in informal educational courses and trainings and hosts five start-ups in co-working.
On the third objective, SPAZIO13 has managed the involvement of 1 110 people, including residents and local stakeholders (universities, schools, local economy representations, cooperatives, youth associations etc.) in public events and discussions. In terms of social impact, SPAZIO13 proposes an overall increase of awareness on participatory planning (+25%), an empowerment of new skills (+ 15%), an increase of knowledge about the neighbourhood regeneration plan involving 10 000 inhabitants, other 25 NGOs and more than 10 local schools.
Why should other European cities use it?
SPAZIO13 is part of a holistic approach to urban regeneration and enhancement of young people that Bari started three years ago in compliance with the regional political framework that has represented a vanguard on the European scale for urban creativity issues (European Enterprise Promotion Awards 2012, Regiostar 2015). The city has led a regeneration focused on the reuse of public properties and the redevelopment of open spaces through the levers of culture, leisure, theatre, contemporary arts and commerce, with a strong focus on youth capabilities.
An urban programme that includes: the conversion of a large former barracks (20,000 square metres) into an extensive urban park with a public library and the new Academy of Fine Arts; the conversion of a former theatre into the Museum of Contemporary Arts (10,000 square metres), an old parking garage into a theatre research centre (2,000 square metres), the conversion of a tobacco factory (40,000 square metres) into a huge campus of scientific research and technological innovation.
Knowledge from Bari on reuse, urban regeneration and social innovation has already been shared at URBACT level. SPAZIO13 may be interesting to all European cities that are involved in regeneration processes because it demonstrates how social innovation models and creative hubs can play a key role in activating and involving people in deprived neighbourhoods.