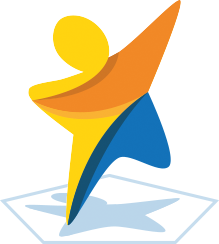 Back to home page
Participatory approach in creating City Strategic Development Plan
Involving citizens in urban planning for sustainable change.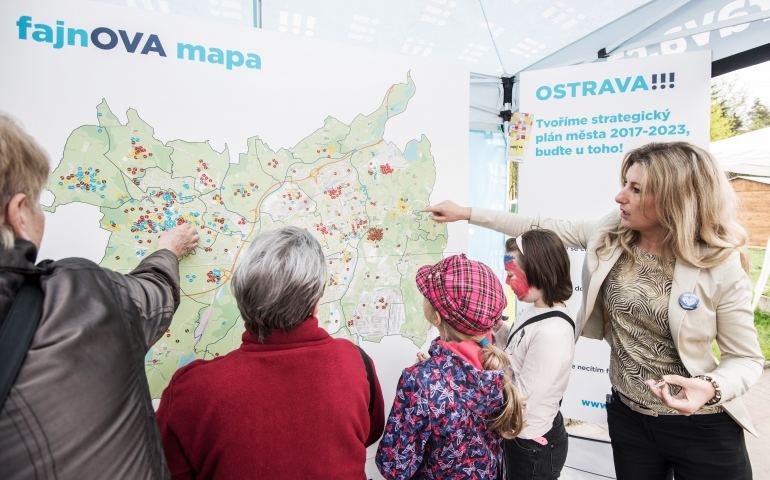 In 2016, the City of Ostrava (CZ) developed a Strategic Development Plan for 2017-2023. The uniqueness of this process lays in communication and involving citizens under a new, unified brand "fajnOVA", meaning "fine Ostrava" in Czech. Having a plan made for and by the citizens, ensures that the city vision lives in people's minds, not just on paper. It also ensures a sustainable long-term vision that should be less exposed to political change. In addition to the 250 experts from various fields of urban development, 20,000 residents and visitors of Ostrava have been actively involved. This is by far a unique citizens' involvement in public decision-making that the Czech Republic has ever seen.
The solutions offered by the good practice
Our good practice describes an effective method of integrated and participative approach, in the preparation of the City Strategic Plan as an example of sustainable development city planning. For some cities, it can be an inspiration, for others a baseline that can be developed.
The main benefit is the expectation of a permanently fulfilling vision of the city over a long-term period (until 2023 or 2030), which should be independent from political changes and the four-year election period. Moreover, having a high quality Strategic Plan enables more conceptual urban planning within the city in various fields of development, which makes it easier to choose, realise and communicate the best projects for the city.
Building on the sustainable and integrated approach
Broader participation and engagement of key stakeholders and citizens have gained greater importance in the entire process.
The portfolio of participating stakeholders was very wide. The goal was to get together people from different fields of urban and sustainable development in working groups, a steering committee or in individual interviews on topics such as city development and infrastructure, growth and city government, people and communities, environment and resources, vision and image, architecture and urbanism, implementation, connected city or metropolitan city (e.g. representatives of National Heritage Institute, Confederation of Industry of Czech Republic, Zoo, Hospital, Library, Regional Development Agency, city clubs, SMEs, investors, Cultural and Education Centre, Agency for Social Inclusion, Science & Technology Park, Labour Office of Czech Republic, universities, high schools, basic schools, Institute for Community developer, Parish, IT companies, Automotive Cluster, Regional Employment Pact, architects, Czech Environmental Inspectorate, Health Institute, Institute for Global Change Research, NGOs, architects, environmental experts, industrial factories, city council and assembly members, city district mayors, mayor from cities in agglomeration, regional governor, Government Office, Member of European Parliament, etc.). All their thoughts and statements were written down during the sessions, and used in the text of the Strategic document.
Based on a participatory approach
The new Strategic Plan is not a "document put in a drawer", but involves many experts and citizens of Ostrava. Work started with creating a communication and participation plan, and setting the goal of involving 5,000 citizens of Ostrava. At the end of 2016, more than 20,000 people were involved, which is exceptional within the Czech Republic, maybe within Central Europe as a whole.
The planning process was coordinated by the steering committee of City Council members, as well as other experts and inspirational leaders. The same pattern was used in working groups focused on specific fields (the involvement of political opponents turned out to be very useful).
The Plan was created with contributions from more than 20 000 people, both citizens and visitors to Ostrava. 6 800 people completed a questionnaire giving their opinions on Ostrava, 8 000 people put 32 000 comments into emotional maps in streets and participated in debates, 1 200 people put 15 300 comments into the online emotional map, 250 experts were involved in working groups or interviews, 500 people sent us their ideas for projects and suggestions for the Strategic plan, and more than 3 250 people are member of the Facebook community.
During the creation of the Strategic Plan, we published project proposals online. Anyone can send us ideas for projects in Ostrava until 2023, when the most strategic ideas will be implemented.
What difference has it made?
Created as a communication tool for the preparation and implementation phases of the strategic plan, the "fajnOVA" brand combines two key elements: "fajn", a local dialect word meaning "fine" and pronounced like the English word "fine", and OVA, a commonly used abbreviation of the city name. Today, the "fajnOVa" brand has a positive image and is understood as a communication and participation tool informing about new projects and city plans, as well as a participation platform where citizens can get involved in public life and supporting communities. The brand helps changing the negative perception of public administration in the Czech Republic.
During the process, we managed to involve 20 000 citizens, which is a remarkable achievement for a Czech city.
Another exception was the active participation of the mayor, who was not only formally head of the whole process, but personally and proactively led most of the working groups. The 2016 City Council partly reallocated the city budget for the realisation of future strategic projects. Nowadays, we are invited to many experts and public meetings to present our good practice. Our experience from the participative process is reproduced by other Czech cities, and we share it through regular departmental meetings on strategic development.
Why should other European cities use it?
It is crucial for cities to have their own development strategies, or city plans, and help local stakeholders and decision makers to implement strategies that will contribute to the city's future economy, sustainability and overall health, hence citizens' wellbeing and happiness.
City planning can be done differently. The participatory approach chosen by the city of Ostrava proved successful, with broad reach and popularity among citizens, and with high expectations from everyone involved in its development, mainly in sustaining and implementing the Plan.
The entire preparation process of the plan has been collaboratively carried out by the City Council, staff, external consultants, residents, visitors and local businesses. A number of various communication and participation tools have been used, and participants were invited to comment on the draft before the plan was wrapped up to its final form, and approved by the City Council.
As every bigger city has strategic development documents and plans, we believe that since Ostrava has been an inspiration for many Czech cities in want of incorporating a participative process in the City Strategic Plan preparation, we might take the chance and foster our good practice beyond our borders.