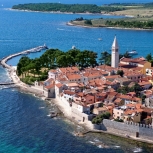 Novigrad-Cittanova is a small city situated in the North-Western part of the Istrian peninsula, on the coast of the Adriatic Sea, just 20 km from the Slovenian border. The Municipality has a surface of 27 km² and five settlements with a total of 4.345 inhabitants. Because of its history and position, Novigrad-Cittanova is officially a bilingual city, where the city administration issues its documents in both languages, street signs and public display of information are bilingual, and most inhabitants speak both Croatian and Italian. The city has a strong fishing tradition which is treasured as a special cultural value.
The economy of the City of Novigrad-Cittanova is mainly based on tourism, services, agriculture and fishing. In summertime there is a great variation in the number of inhabitants, being a seaside touristic destination. The most important agricultural products are wine and high-quality olive oil. Although Novigrad is a small community, the sector of services is well developed, with two kindergartens, two elementary schools, two museums, a city library and around 40 associations. 
According to the development index calculated at the State level, Novigrad-Cittanova is one of the most economically developed cities in Croatia. 
Moreover, the city is very active in promoting and implementing EU projects, which have contributed, among others, at: construction of the sewage system, construction of bike paths, energy efficiency reconstruction of the children kindergarten, energy efficiency reconstruction the public lighting system, construction of roads, education campaigns for the citizens regarding sustainable waste management etc.
As a partner in "The Playful Paradigm" URBACT network the city has the chance to explore new practices while attending the transnational meetings and keeping in touch with the partners through the Basecamp. Keeping in mind that active citizen is the heart and soul of a city, the activities and ideas from the network are more than useful for the improvement of social inclusion and healthy lifestyle. Being a small city, Novigrad-Cittanova can work on bringing the community together by organizing   events, activities and gatherings as a great way to connect with others, make new friends and often help our community in a multitude of ways.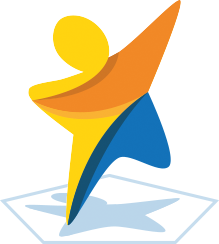 Related Good Practices
SOME RELATED NETWORKS
Cities offer unique opportunities for addressing the challenges of urbanization, ageing, climate change, social exclusion, only if enabling,...
Article
Find out how URBACT builds the capacity of cities to work in a more integrated and participatory way. A report from the URBACT Campus