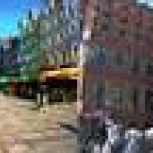 A thousand-year history, a location at the crossroads of important commercial and communication routes, an extensive port and mercantile traditions - all this makes Gdańsk a meeting place of many cultures, nationalities and denominations. Contemporary Gdańsk - a half-a-million, dynamically developing agglomeration - is vibrant with life as before and again deserves to be called "the Pearl of the North."
The key challenge for the city of Gdansk concerning the young generation is combating exclusion and criminal careers and promoting the positive potential of youth. Gdansk wants to promote this by developing coaching and peer support methods and better co-operation across the board. Through MY GENERATION Gdansk wants to learn on good practices on integrated multi-actor cooperation and can contribute on experience of inter-disciplinary work.
Please download the following document
Final Local Action Report (Feb 2011)
Final Report
In the final report, the cities are asked to indicate, where they are strong, and have made progress, and where they will continue their efforts – with the help of a Local Action Plan – to achieve further progress and coverage.
Final City Report Gdansk- March 2011 (Click here)
Each city must produce at least one case example, which best exemplifies, in their judgement, the MG activities and co-production with the young.
Case Example will be posted soon!
Interview Movie Clip Gdansk April 2011 (Click here)
Local action plan Gdansk - in Progress
Underneath is shown a first impression of the Local Action Plan (jan 2010), click on it to see a larger version
Click here to watch the Gdansk case study held in Riga (jan 2010)
Please click below to open the following documents:
What is interesting for Gdansk? 
Lessons learned during the Outreach workshop in Gdansk-Reform of education, building better connections between schools and business (from Valencia)-Youth shadow politicians (from Rotterdam)-System of coordination, partnership working (from Birmingham)-We have quality of programmes, but without much bottom-up participation
SOME RELATED NETWORKS
The BluAct Network follows the success of the Blue Growth Initiative of the Municipality of Piraeus, an award-winning business plan competition that...
In times when personal sacrifices are much needed to tackle burning societal issues, fostering and enabling collaboration at local level of public...
| M | T | W | T | F | S | S |
| --- | --- | --- | --- | --- | --- | --- |
| | | | | 1 | 2 | 3 |
| 4 | 5 | 6 | 7 | 8 | 9 | 10 |
| 11 | 12 | 13 | 14 | 15 | 16 | 17 |
| 18 | 19 | 20 | 21 | 22 | 23 | 24 |
| 25 | 26 | 27 | 28 | 29 | 30 | 31 |