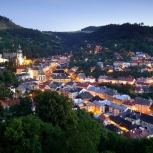 Banská Štiavnica is the historical mining town located in the Central Slovakia. It is considered the most beautiful towns in Slovakia and annually is visited by thousands. In 1993 Historical Town of Banská Štiavnica and the Technical Monuments in its Vicinity were included in the UNESCO World Heritage List. Population of almost 10,000 inhabitants puts the town among small scale cities but the town is large in architectural and natural heritage.
Banská Štiavnica is a town in the centre of an old volcano. From the depths of the earth, rich veins of precious metals and rare minerals erupted to the surface. Thus this place was predestined to become an area of long and intensive coexistence between people and mountains. Amidst these mountains a city grew. The hard work of man left behind deep but uniquely harmonious traces in the landscape, and vice versa: steep and rugged, but picturesque country formed the soul and faces of the people. Here man and nature merged into one. It's a magical and mystical place, a portal to treasures of the earth.
Banská Štiavnica is like a living textbook of history, architecture and landscaping. Those who want to, can find testimony to the creative spirit of mankind here, unique within the European context.
In the past it was the Eldorado of Europe, a place where adventurers, Turkish conquerors and robber knights hunted for gold and silver. For several centuries, Štiavnica, once the third largest city in the Hungarian Empire, was the treasury of the Austro-Hungarian Monarchy. Tons and tons of silver and gold came out of its depths. From its underground wealth, royal cities Vienna and Budapest were built; glorious life was given to the imperial court; and wars, science, education and culture were financed.
Hills throughout the area are riddled like Swiss cheese and entrances to tunnels can be found in almost every house of the old town. Thousands of kilometres of tunnels and shafts were hand-carved in rocks before the world's first use of gunpowder was used for mining purposes. Man created a unique water-powered system here. Water from sixty inter-connected lakes (tajchs) pumped water that flooded the mines and drove the ore-crushing machines and mills. A number of inventions were developed here, and then adopted by the entire world. The empress Maria Theresa established the first technical university in the world (Mining Academy) in Banská Štiavnica.  
Banská Štiavnica handed out wealth until it became poor itself. With the decline of mining came the quick fall of the city. People left in droves. In the 1980s, this formerly proud Silver City laid in ruins and looked like a ghost town.
Today much is different. Štiavnica is catching a second breath. Houses have been reconstructed in the style of the classical times. There are no new buildings to disturb the historical centre, and if there were no cars or road signs, it would look just as it did in the Middle Ages. Although still poor – with little industry and agriculture – Štiavnica emanates a certain magic. People fed up with the noise of the city, as well as artists looking for inspiration, move here to have a more peaceful life. The culture here is at a surprisingly high level, with small film and music festivals, concerts, and events for children. As in old times, people entertain in cosy pubs until late at night.
Here, you will not find the crowds you expect in a typical tourist destination. The pace of life is different. There are no traffic lights, no billboards in town. You do not need a car: everything is within walking distance. But you can leave your high-heeled shoes at home: everything here is either uphill or downhill!
Although so popular with tourists and visitors, Banská Štiavnica as a municipality has a lot to deal with to provide welfare for its citizens. One of the topics is development of volunteerism among young people to help those in need. We consider the joining Volunteering Cities+ network as an opportunity to raise awareness about volunteering work among Štiavnica´s citizens and stakeholders to understand the necessity to help without expectation of any financial reward.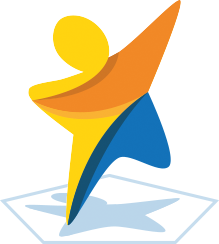 Related Good Practices
SOME RELATED NETWORKS
The transfer network makes use of Volunteerism to approach social exclusion and poverty at the community level. Focus is given to an inter-...
| M | T | W | T | F | S | S |
| --- | --- | --- | --- | --- | --- | --- |
| | | | | 1 | 2 | 3 |
| 4 | 5 | 6 | 7 | 8 | 9 | 10 |
| 11 | 12 | 13 | 14 | 15 | 16 | 17 |
| 18 | 19 | 20 | 21 | 22 | 23 | 24 |
| 25 | 26 | 27 | 28 | 29 | 30 | 31 |