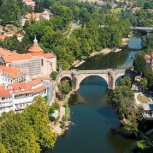 Amarante is a historical city in northern Portugal with a huge natural and building heritage, the city cultural and artistic tradition made Amarante a Creative city of UNESCO network. With 56 thousand inhabitants, Amarante is the municipality with the biggest area of the Porto district. The city of Amarante is renowned for its historic old town and legendary sites.
Because of its dimension and location, Amarante combines two different realities: rurality and urbanity. On the outskirts of the city, specially the nearest parishes to Aboboreira and Marão mountains are mainly rural. However, in the city centre there is an urban reality with a higher population density. These two realities also represents two diffent kind of richness: natural, with its mountains and rivers, and cultural, with great monuments and artistic personalities that marked the portuguese culture. This heritage can be felt in today's city dynamics.
Amarante has great acessibilities with direct connects trough highways to the biggest cities in northern Portugal and where the Universities and research and development centres: Porto, Braga, Guimarães and Vila Real.
The city has professional schools, university education programs in partnership with different institutions and training offer to executives at Industry Business School (IBS) located in Amarante.
In what concerns to economy, Amarante has a great tradition in industry of wood and metal that remains until nowadays. Agrobusiness also has some importance in the local economy with more enphasis to the wine (Vinho Verde), honey products and mushrooms. A fast growing sector is tourism, reason why it was developed in 2017 the tourism and marketing strategic plan.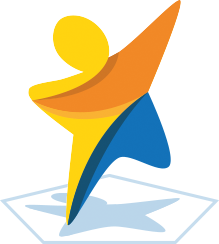 Related Good Practices
SOME RELATED NETWORKS
BEE PATH Good Practice logic is very simple - bees are the best indicator of healthy environment! BeePathNet Transfer network aims to up-grade and...
iPlace is a journey where the partner cities are fellow travellers who are always seeking to find niches appropriate for their cities, while...